Welcome to New Advertiser Clear Blue Skies Group S.L. Estate Agent in Tenerife
Clear Blue Skies Group is an International Estate Agency based in Playa Fañabe in the South of Tenerife. Established since 2003 and founded by four family members who set out to create a transparent and respectable estate agency, providing a comprehensive and trustworthy service to customers looking to buy a property in the desirable location of South Tenerife.
Property For Sale in Tenerife from Clear Blue Skies Group S.L.
Their friendly sales team are a dedicated group of professionals who speak a range of languages including English, German, Italian, French, Polish, Flemish and Spanish. If you are interested in buying a home on this fantastic island or are looking to sell your existing property, then do not hesitate to get in touch with Clear Blue Skies for an informal, no-pressure chat about your requirements.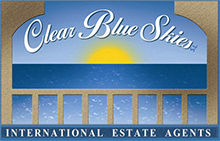 Sep 9, 2015
| 1097 Page Views
Home
|
Read other news